Certified Service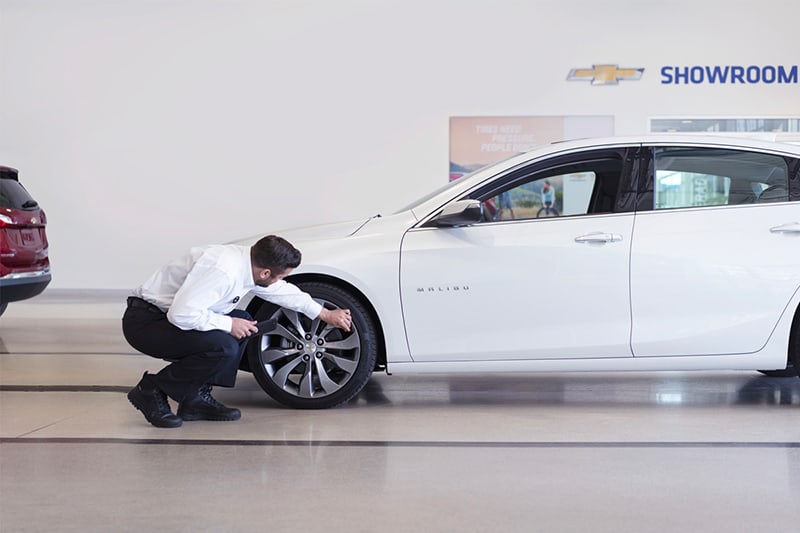 Service Offers and Pricing
We offer competitive prices on popular vehicle services such as oil changes, brakes, and tires.
Maintenance
Need New Tires?
The only points of contact your vehicle has with the road are its tires. This means that every safety, efficiency, and performance feature of your vehicle must be channeled through the four small contact points your tires provide. To make sure those points are up to the challenge they are presented with driving around the Buffalo Grove area, it is important to keep these wear items relatively fresh. At Chevrolet Of Palatine, our Certified Service experts will handle all of your tire needs, from checking tread depth to assess the health of your tires, to helping you find new tires for your vehicle when the time comes.
Find Tires
Need An Oil Change Near Palatine?
Your vehicle may be trying to tell you something – Oil Life Monitoring Systems let you know when it's time for an oil change. And our Certified Service experts can shed light on how often should you change your oil, and recommend what's best for your vehicle. One of our express oil changes can ensure your vehicle's continued longevity with a service stop of just a few minutes. Meanwhile, an oil change coupon will give you the best deal possible. Schedule an appointment near Arlington Heights today.
Learn More
Multi-Point Vehicle Inspection
With your Multi-Point Vehicle Inspection, you get a thorough assessment of your vehicle by the Certified Service experts. A Chevrolet Multi-Point Vehicle Inspection includes a comprehensive evaluation of every accessible vehicle system, ensuring that future problems can be avoided through preventative maintenance. There is no better way to provide automotive peace of mind than to know exactly what the state of your vehicle is, after it has been through a rigorous Multi-Point Vehicle Inspection checklist. So protect yourself and your automotive investment with a comprehensive vehicle inspection at Chevrolet Of Palatine today.
The Multi-Point Vehicle Inspection form uses a simple color-coded key to assess maintenance terms:
Red indicates items that need immediate attention.
Yellow indicates items that should be addressed in the near future.
Green indicates no items to address.
Hearing Brake Noise?

​​Stopping power is crucial to a safe and successful driving experience. If your vehicle is making sounds or vibrating when braking, it's time to visit Chevrolet Of Palatine and our GM Certified Service experts. We carry high-quality, high-reliability OEM parts straight from Chevrolet, from vehicle brake pads to rotors and more. If you wonder "Why does my vehicle vibrate when I brake?" or any other service question, don't hesitate to contact our service experts with any query you may have. When you need brake service, you can rely on us to get you back on the road with complete safety.
Learn More
Battery Trouble?
Your vehicle's battery provides energy to start the engine, plus it supplies power to accessories when the engine is not running. Your battery is a relatively inexpensive part to purchase and install, but one that can keep your vehicle from starting when you need it to if the battery wears out. The cold of winter and the heat of summer can affect your auto battery, degrading its ability to charge and discharge over time. To have your battery checked, schedule an appointment with us. Just like many of our other services, we have a special offer for battery replacement to help you get the best deal you can near Schaumburg.
Learn More
Contact Service
151 E Lake Cook Rd, Palatine, IL 60074